As everyone I have strengths and weaknesses. It would be hard to say what is really a strength or a weakness. So I described my personality in typical characteristics. I learned over time that in a different context a personal characteristic could be either a strength or a weakness. In general, I don't see them as constants, but dynamic potentials.

We can do better every day. Learning is an integral part in my life and to stop is not an option.
I would say I am an analytic-creative mind. What does this mean? In short, I am very good at being creative and rational. I can switch between these modes relatively fast. Design thinking is one method or process to practice both modes in one workshop setting. To my experience, this can be very challenging and exhausting for most people.
In our time systems are getting more and more complex. Trivial problems with easy-to-find solutions are rare nowadays. Lateral thinking supports in finding solutions for complex problems, or in other words, reframe the problem to ask different questions and finally find very different solutions. I like this type of thinking very much.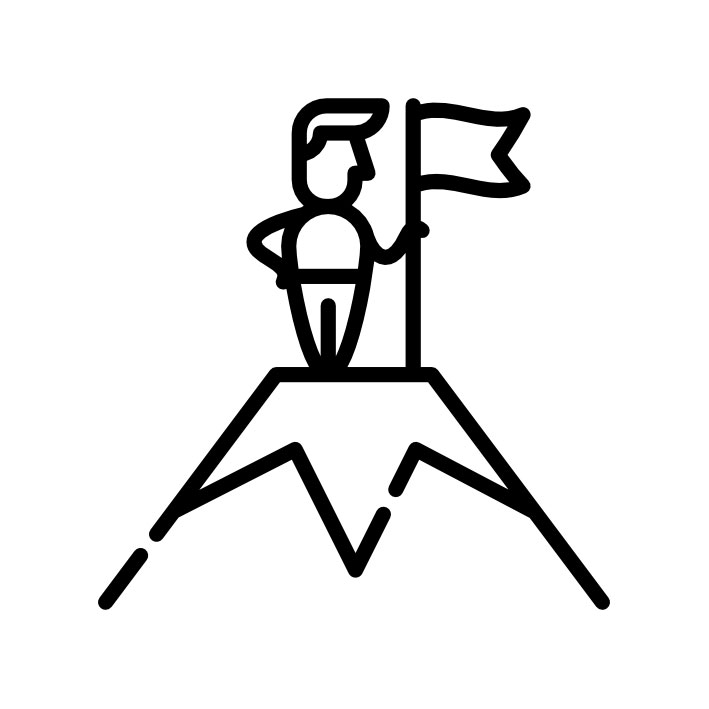 I am used to do sports and competitions since I am very young. So, I know how much training and passion and discipline is needed to be successful. Nothing is for free. And i like to win. I like to be in a competition and it is naturally for me trying to win as often as possible. Sports and business are not so different. You can feel my favour for discipline and ambition also in a company world.
I am used to work in teams when I started my professional work life and I liked it very much compared to working completely alone. Success in the job world means for me that my team is performing successfully and we win together. For this reason, I am very interested that every member of my teams likes the daily work and of course the other team members. Collaboration also means for me to share knowledge with others or coach if necessary.
I don't need instructions. In contrast, if my boss or other colleagues wanna give me very exact instructions, I would not be happy about that. My strength is working in a more or less free space. Of course I am used to constraints and I accept boundaries that makes sense. I can work on my own, but at the same time I see a lot of potential in fruitful discussions and inspirations of others. I think is good to switch these two modes depending on the situation.
In my startup I was used to work under high pressure and learned to perform best when time and resources are scarce. One downside with this fact is that if there is no pressure at all, the performance is not quite 100%, but a little bit less, but I think this is normal for the majority of mankind.
I am absolutely performance-oriented. I am not saying that if someone is not performing good that this is only bad. If he or she is trying hard to become better I am the last one who is complaining. In general, I am focused on my performance and not so much what others are doing or not. It is not my style to talk bad about other people at the job.
I admit that this is not my strength. When things don't come together very fast, or patience is needed to wait for a project, initiative or a meeting, I have my problems to accept this. But I learned to deal with this situation better in the last years. On the other hand, due to my impatience, I am very hands-on and try to put things into action and risk sometimes a little bit more than other people. I would say this approach could be an advantage, but sometimes also a disadvantage.
Other people tell about me that they appreciate my direct way of communicating. For myself it is very hard to see this behaviour in real life. But I admit that I don't like small talk, instead I like to come to the point. To my mind, clear communication is efficient and makes life easier for everyone. Direct means for me also to be honest to someone and give personal feedback if it is constructive. My experience is that not everyone is interested in a direct feedback culture. To this my tolerance is low, cause I think this is the foundation of good collaboration.
Rational means not that I am Mr. Spock, but on the scale between emotion and ratio I am more on the rational side. I am pretty sure that to be successful you need a portion emotion and passion for what you do and how to motivate others. I like these moments when passion is necessary and I am able to express this. This energy is needed in longlasting projects. On the daily basis my rational part is stronger and I am mostly not struggling with emotional conflicts. Most of the time it is an esaier way to make progress with ratio.
I am very passionate about supporting, coaching or mentoring other people. I like the feeling to maximize one's potential and help others to be better than before. Sometimes people confuse my coaching with education. On the other hand if there is no will to change or to improve I am not interested in coaching at all. What many people don't see is that if you coach someone you can learn a lot at the same time in the role of the coach. You learn so much about yourself and reflect your own experiences.
This is one of my favourite trademarks. I am always authentic. I am no actor. So, put me in situations where I have to act differently and I will fail or deny of the role in the first place. I am aware of the fact that role-playing could be an huge advantage in one's career. But this would not fit to my personality. In business life I am quite sure to recognize if someone is acting or not. If not I am happy to work with the colleague. If it is an actor, I have to admit that my trust is not easy to get.
| | |
| --- | --- |
| Project Management | |
| Product Development | |
| Agile Methodology | |
| User Interface Design | |
| Usablity Engineering | |
| Requirements Engineering | |
| IT Systems Evaluation | |
| Product Management | |
| Stakeholder Management | |
| SCRUM | |
| Kanban | |
| Customer Experience | |
| Customer Journey | |
| Design Methods | |
| Change Management | |
| Prototyping | |
| Blue Ocean Strategy | |
| Knowledge Management | |
| Industrial Design | |
| Sketching | |
| Accounting & Controlling | |
| Process Management | |
| Quality Management | |
| Innovation Management | |
| Interaction Design | |
| Service Design | |
| Strategic Design | |
| Information Visualization | |
| Rapid Prototyping | |
| | |
| --- | --- |
| XHTML & CSS | |
| Microsoft Office | |
| Adobe Photoshop & InDesign | |
| Java | |
| Eclipse IDE | |
| JavaScript | |
| eCommerce Systems | |
| CRM Systems | |
| CMS Systems | |
| PIM & DAM Systems | |
| Atlassian Jira & Confluence | |
| Slack | |
| SQL | |
| Google Web Toolkit | |
| XML | |
| Autodesk Alias | |
| Databases & Data Modelling | |
| PostgreSQL / Oracle / MS SQL Server | |
| SAP | |
| | |
| --- | --- |
| Lateral Thinking | |
| Systems Thinking | |
| Agile Planning | |
| Time Management | |
| Rhetorics & Presentation | |
| Teamwork | |
| Interdisciplinarity | |
| Scientific Writing | |
| Conceptual Thinking | |
| Creative Thinking | |
| Creativity Techniques | |
| Servant Leadership | |
| Holacracy | |
| Qualitative Research | |
| Quanitative Research | |
| | |
| --- | --- |
| German | |
| English | |
| Italian | |
| Romanian | |
Back to Top